Housewarming Invitation Card: GruhaPravesam Invitation
Posted On:
March 21, 2023
Last Update On:
May 31, 2023
Book a pandit for Griha Pravesh Pooja in a single click
Verified Pandit For Puja At Your Doorstep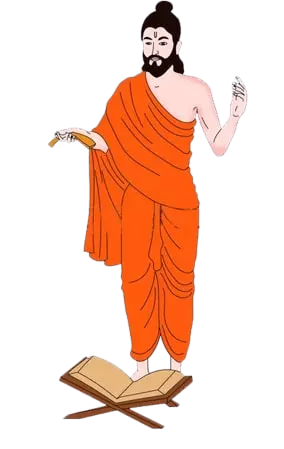 If you guys are searching for the best ideas to create an Invitation card for Griha Pravesh Pooja or Housewarming Invitation Card, then you have to choose the right option. 99Pandit is the right place to help you with the latest and unique ideas for the GruhaPravesam invitation. As we all know that before going to perform any occasion or ritual, inviting the people to a ceremony is a must. 
As Hinduism states that any kind of ritual and ceremony does not complete without the guests or people to enhance the puja effects. Therefore the invitation card for Griha Pravesh pooja or Housewarming Invitation Card is mandatory so that we can warmly ask them to join us. 
Are you looking for some creative ideas for the GruhaPravesam invitation/Housewarming Invitation Card and are interested in making the GruhaPravesam invitation card effective and appealing? If yes, then this guide will help you. We will discuss creative ideas on how to send invitation card messages and how to create a housewarming pooja invitation card.
A Griha Pravesh pooja necessitates considerable planning and effort. One of the most important tasks is to invite family and friends to the event. The best way to accomplish this is to create e-invites and distribute the housewarming invitation message via messaging apps to your family and friends' groups. 
These invitations can be made online without any prior design or software knowledge. For inspiration, look through professionally-designed layouts of griha pravesh invitation messages and Invitation cards for Griha Pravesh pooja available on social media platforms.
Check out these GruhaPravesam invitation cards or Housewarming Invitation Card templates and housewarming ceremony invitation message samples, which you can send to your friends and family via email.
Griha Pravesh Invitation Card/Housewarming Invitation Card Message Ideas
Purchasing a new home is always exciting; it is one of the most significant life achievements that deserve to be celebrated with family and friends. Before moving into their new home, most Indian families perform Griha Pravesh puja and Hawan, followed by a housewarming party. 
We have you covered if you are looking for the best Griha Pravesh invitation card design to invite your relatives, friends, and colleagues.
As a new homeowner, there are many things to consider, including organizing a housewarming ceremony. When inviting your friends and family to the party, you may need to create the perfect housewarming Invitation Message or GruhaPravesam invitation message.
A Housewarming Invitation is a message you send to your friends and family inviting them to your new home on the occasion of Griha Pravesh, or the first entry. The message should include information about the housewarming ceremony, such as the date, time, and address.
So, here are some suggestions to help you create a lovely Griha Pravesh invitation card message.
"We cordially invite you to our housewarming party."

"As we take our first steps into our new home, we cordially invite you to our housewarming ceremony and grand celebration."

"As we move into our new home, we'd like to share this special moment with everyone.". You are cordially invited to our home's housewarming ceremony."

"We cordially invite you to our new home's housewarming party."

"On the occasion of our housewarming ceremony, we have organized a small gathering of our close friends, family, and well-wishers. We want you to be a part of something historic!"

"We would like to celebrate this special occasion with our close friends and family as we settle into our new home. We cordially invite you to our housewarming celebration."
Sample Designs For Invitation Card For Griha Pravesh Pooja
You'll be spoiled for choice when it comes to selecting a design for the invitation card for Griha pravesh pooja. So, for example, if you are planning a Griha Pravesh puja, you can use traditional patterns and colors. 
You can also choose blingy and bold colors if you are planning a puja followed by a housewarming party. You can also establish a dress code to make the housewarming party more enjoyable.
Invitation cards for Griha Pravesh pooja in the form of videos are popular these days, and you can choose from a variety of designs online or even customize it to your liking. "During this coronavirus pandemic, we wanted to share our journey of building the house with our near and dear ones and thus made a customized invite that included the various stages from the construction, the raw house to the main door opening to all the details about the house warming function," who chose a video Grah Pravesh invitation.
Following we have mentioned some design ideas for the Housewarming invitation card or invitation cards for griha pravesh pooja you can select.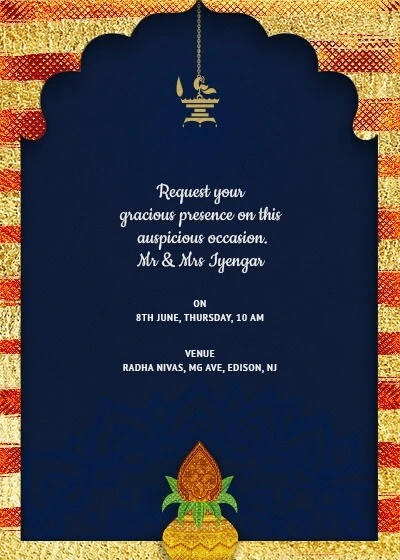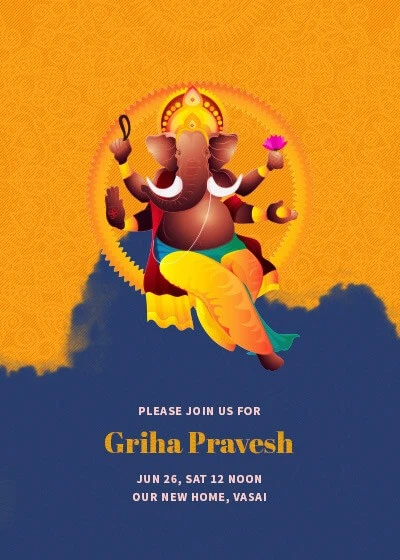 Housewarming invitation card: What To Write In The Card
The following points should be included in your Griha Parvesh invitation message housewarming invitation message:
The main point: Inform them that you have moved or plan to move into your new home. Housewarming invitation quotes and images can be included.
Thank your guests: Mention how you couldn't have taken this step without the help of those around you, and how you need their blessings and good wishes.
Request their attendance: Invite them to be present on your special day.
Include additional information: If you're planning a party or meals after the ceremony, make sure to invite them.
It is critical to address those who are invited when sending out your housewarming invitation message (including children). This also assists attendees in determining who from the family is invited.
At the end of the housewarming invitation message, include the complete address and, preferably, a sketch or simple map (highlighting a landmark). Also, provide clear directions to the new house or include a small map.
How To Write Invitation Card For Griha Pravesh Pooja
The invitation card for Griha pravesh pooja or housewarming message must include the following steps:
First Step: Always mention the main message when writing an invitation card, i.e., inform the person of the reason for the occasion – that you are moving into a new home.
Second Step: To make it more personal and inviting, give them a few lines of credit for your success and explain why their gracious presence is so important to you.
Third Step: Before you send your message, don't forget to include important details such as the date, time, location, and whether or not you've planned a party or lunch/dinner following the Griha Pravesh puja.
Fourth Step: It is always a good idea to direct your guests. So, try to navigate through the small map to the new house.
Invitation Card For Griha Pravesh Pooja For WhatsApp
Thanks to advances in technology, invitation card for Griha Pravesh pooja or Housewarming invitation cards and messages can now be sent to invitees instantly. Whatsapp is a popular way to invite Griha Pravesh pooja for Vastu Shanti puja at home. So, on Whatsapp, you can send a personalized Vastu shanti invitation message or cards.
Here are some housewarming ceremony invitation cards that you can personalize and send to your friends and family via email: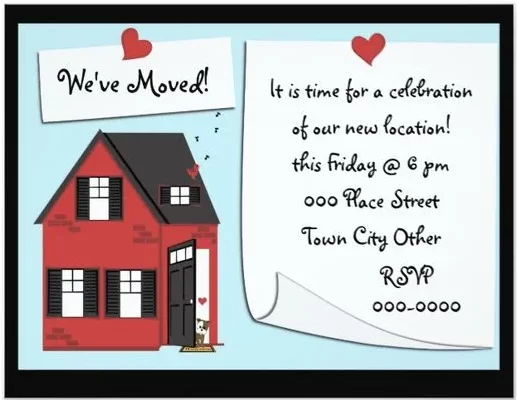 Unique Ideas For Invitation Card For Griha Pravesh Pooja For WhatsApp
Create a customized Indian housewarming invitation such as a Satyanarayan Puja Invitation Card via Whatsapp message for an Indian housewarming ceremony. Here are some examples of Griha pravesh invitation card messages shared on Whatsapp with friends and family. 
Here are the unique ideas for an invitation card for Griha pravesh pooja to send over WhatsApp.
Example 1: We have boxes of items that our house requires, but the only thing that would turn it into our home is your cheerful face. This Sunday, we cordially invite you to our house pooja.
Example 2: Come shower your blessings on my family and me as we celebrate our new home and new life. We cordially invite you to our housewarming party!
Example 3: We cordially invite you to share our joy as we take the first step into our new home, our world.
Example 4: We would like to invite you to our housewarming celebrations and hope that this online invitation reaches you in time.
How To Send Message Using Invitation Card For Griha Pravesh Pooja Over WhatsApp
Sending an invitation via WhatsApp is becoming more popular as an alternative to sending physical invitation cards or e-invitation cards via email. People rarely miss WhatsApp messages, whereas an e-mail may be missed if the recipient is on vacation or if the mail, unfortunately, ends up in the spam folder of the recipient's inbox. You can keep the messages brief but include all pertinent information such as the date, location, and time. 
Include a map or share the location with the guests to help them find the house. The message can be formal, casual, or even humorous. Sending an invitation message via WhatsApp may appear informal, but it is the best way to invite your friends and family. 
I hope this e-invitation reaches you in time for the celebrations of our new home at [venue] on [date].
Without the warmth of your company, a brick-and-wood house is incomplete. Participate in the Griha Pravesh puja on [day] at [location] to bless our new home. Following the puja, lunch will be served.
Symbols Used On Invitation Card For Housewarming Pooja
Various motifs can be used when designing invitation cards for the Griha Pravesh pooja. Traditional designs include motifs of mangal kalash with coconut or rice, swastika, Ganpati, potted tulsi plant, diyas, goddess Lakshmi's footsteps, lotus motifs, images of Satyanarayan Katha with banana leaf, and so on. Folk art motifs such as Warli, Phad, Kalamkari, Patta Chitra, or Madhubani designs can also be used.
Houses and keys are popular motifs in housewarming party invitations for a modern Griha pravesh or Vastu Shanti invitation. You can experiment by using keys as the main design feature of the invitation card, or shape the card/create a visual of a house with the content inside if it is a digital card.
Tips To Conduct The Griha Pravesh Pooja
New homeowners prefer to celebrate the beginning of their new life in their new home with friends and family. If you're planning a housewarming party, here are some helpful hints to make it memorable.
Before sending housewarming invitation messages, start by finalizing a guest list. Include the people you want to invite, such as friends, family, and coworkers. It is critical to keep in mind that the guest list should be limited to a number based on the available space.

Choose a lucky date for the Griha Pravesh ceremony. Make certain that you have enough time to prepare and decorate the house for the party.

Begin sending invitation messages for the housewarming ceremony or Griha Pravesh invitation cards and invites to guests at least two weeks in advance.

Decorate your new home. Plan the housewarming party, including food and drinks, according to your budget.
Conclusion
Nothing could be more simple! So get your GruhaPravesam invitation cards ready. Whether you go the traditional route or the online route, the ideas presented above will assist you in creating the ideal card for the griha pravesh puja or Housewarming Invitation Card and message.
Frequently Asked Question
A.
Sending a GruhaPravesam invitation card via post, Griha Pravesh invitation or Housewarming Inviation mail, or WhatsApp messages is the best way to invite friends and family to a housewarming ceremony.

A.
First, consult your astrologer to determine an auspicious date and time for the Griha Pravesh puja. Make sure the house is clean and decorated, and that you are prepared to move in on the day of the housewarming.

A.
There are numerous creative yet simple ways to write housewarming invitation messages. You can find interesting Housewarming Invitation card messages and designs on this blog.

A.
A few things to include in a Griha Pravesh invitation card and messages are the Griha Pravesh/housewarming ceremony, the date and time of the event, and the address.

A.
There is no set format for a Griha Pravesh invitation message; you are free to be as creative as you like. However, you should concentrate on the date and time, and the address, and begin the message with a salutation like dear + name to give it a more personal touch.