What Is Lakshmi Narayan Homam: Time, Vidhi, And Significance
Posted On:
May 17, 2023
Last Update On:
May 17, 2023
Book a pandit for Lakshmi Narayana Homam in a single click
100% FREE CONSULTATION WITH PANDIT JI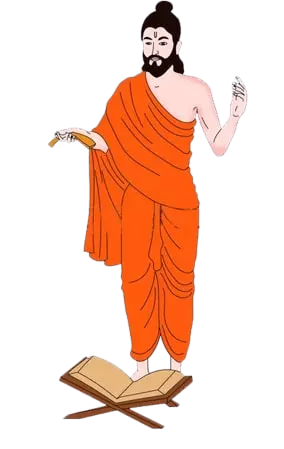 99Pandit offers the best and most experienced professionals to perform Lakshmi Narayana Homam or Lakshmi Narayan pooja at your home or temple. 99Pandit has available multilingual pandit or purohits, who can perform the puja and homam in English, Tamil, Hindi, Telugu, Kannada, Bengali, and other languages. 
We can help you the devotees with arranging the puja at home, temple, holy kshetras, and other locations of your choice. The services we provide include pandit dakshina and puja samagri as pandit ji do not have any additional charges discussed while puja booking. 
The purpose of performing Lakshmi Narayan homam is to get relief from financial suffering and achieve success in all your financial freedom or endeavours. Conducting the Lakshmi Narayan homam in a year at least once blesses the devotees with prosperity and achievement for financial success through life. 
As per the belief, performing Lakshmi Narayan Homam is said to grant immense wealth and prosperity. If you are suffering from long-time financial issues and a lack of prosperity, Lakshmi Narayan Homam can benefit you to overcome debts and financial stability. 
The celestial duo Goddess Lakshmi and Narayana (Vishnu), who together stand for wealth and prosperity, are honoured during this homa (Fire Lab). The harmony of this combination grants the Fire Lab a particular status that can increase your material and spiritual blessings. Use this chance to connect with the heavenly couple so you can receive their copious abundance and experience tangible wealth and prosperity. 
Feel a significant change in your financial situation, acquire financial stability, and eliminate obstacles to your advancement.
What Is Lakshmi Narayana Homam
Lakshmi Narayana Homam is scheduled for the reason to increase the status of wealth. According to vedic mythology, Goddess Lakshmi is the wife of Lord Vishnu who showers blessings on devotees to obtain prosperity and wealth in life. The most successful fire treatment used to treat money problems is said to be the Lakshmi Narayan Homam. 
People can obtain all material comforts, health, prosperity, long life, spiritual growth, and money by worshipping Goddess Lakshmi and Narayan together. All requests are fulfilled by Srihari Vishnu's love for Lakshmi, the goddess of wealth. Srihari and Mother Lakshmi's blessings come from all ten directions when Lord Vishnu and Mother Lakshmi's mantras are chanted.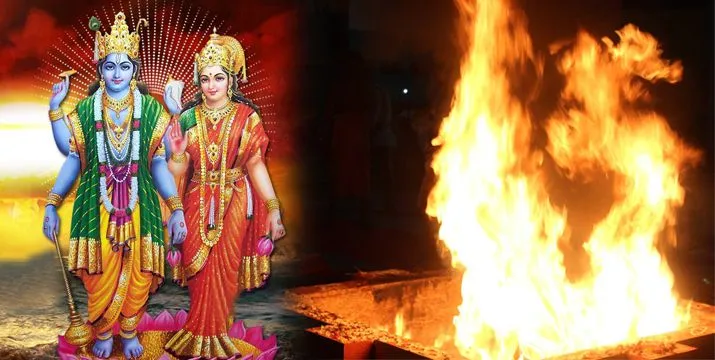 Consider completing a Lakshmi Narayana Pooja, either by yourself at home or by hiring a pandit online, if you're hoping to find serenity, prosperity, and fulfilment in life.
Mantra for Lakshmi narayan homam:
Om Shreem Satyalokapalakaya Namah:
Laxmi Narayan Mantra: Om Hreem Shreem Hreem Shreem Laxminarayanay Namah.
लक्ष्मी नारायण मंत्र: ओम ह्रीं ह्रीं श्रीं श्रीं लक्ष्मीनारायणाय नमः।
Why is Lakshmi narayan homam required to perform?
The most potent homam, Lakshmi Narayana, actually brings more materials for living an affluent and comfortable life. For individuals who are experiencing financial issues, this homam is highly advised.
Significance Of Lakshmi Narayan Homam
The unusual phenomenon known as the Fire Lab or Homam, which is devoted to the goddess Lakshmi and the Hindu god Narayana (Vishnu), channels the energy of both heavenly beings and infuses your life with its vibrancy. 
While Narayana guards the treasures and keeps them safe from unforeseen financial problems, the Goddess of Wealth can bestow prosperity, material abundance, good luck, peace, and spiritual prosperity. When you carry out this rite, unfathomable prosperity and abundance will come your way, providing for all of your needs.
The Lakshmi Narayana homam is carried out with tremendous devotion and regard for the gods, which heightens the procedure's intensity. The mantras repeated during the process allow you to feel the uplifting vibrations in your mind, body, and soul.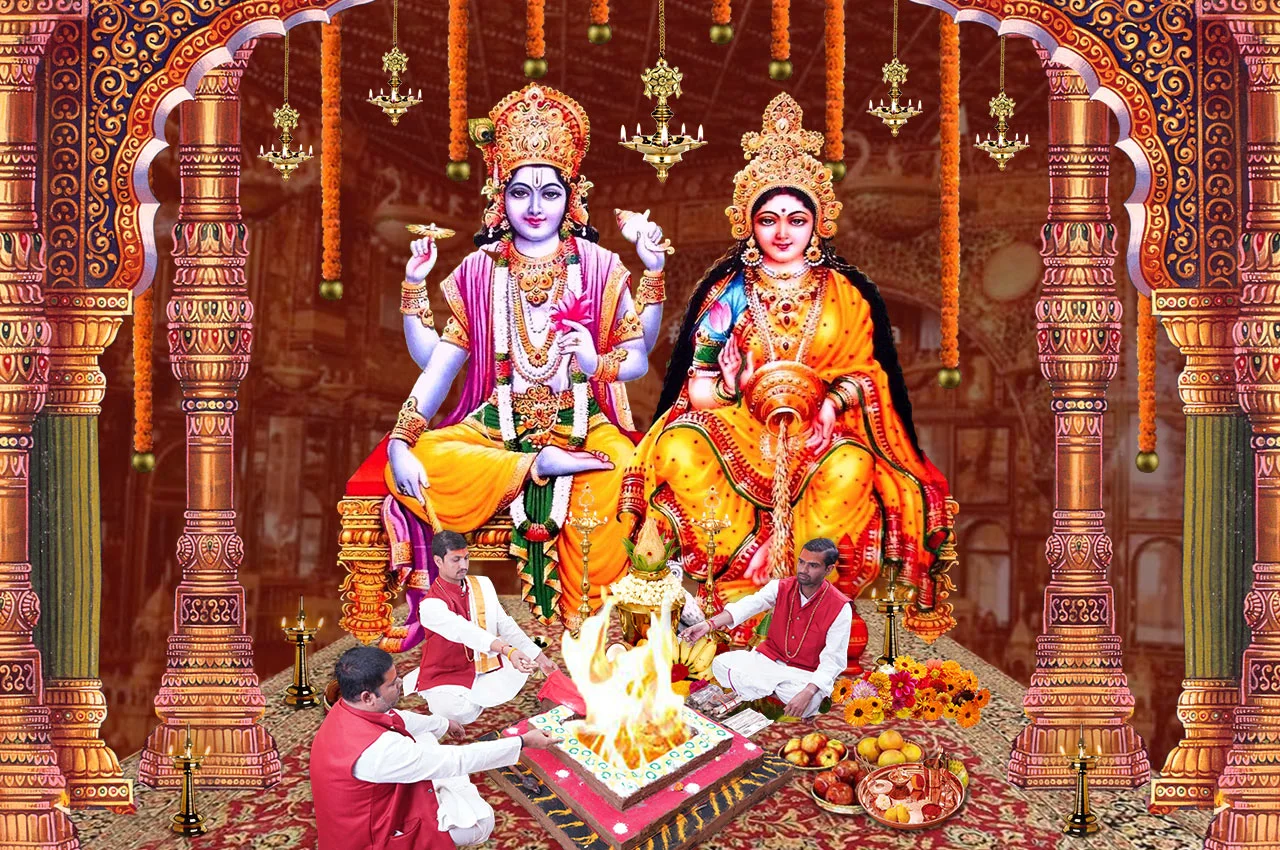 It is strongly advised to carry out this ceremony just once a year to reap the greatest rewards and make the most of the occasion. By making a connection with the archetype Lakshmi Narayana, you can overcome debts, gain financial security, settle interpersonal conflicts, and create new connections with important individuals in your life.
History Of Lakshmi Narayana Homam
The Hindu gods Vishnu or Narayana and Bhagwati Lakshmi are collectively referred to as Lakshmi and Narayana. They are Vaikuntha residents. Goddess Laxmi always follows Him when He assumes an avatar. She represents both worldly and spiritual wealth, prosperity, and abundance. The universe and His followers are protected and preserved by Lord Narayana. Lakshmi Narayan homam is conducted to attract money and abundance as well as good fortune, happiness, and prosperity. This auspicious homam brings peace to the home and office, as well as love and protection for the family. Family Laxmi Narayana Puja. It strengthens the link of love between a husband and wife and the other family members and brings blessings to them. 
The family members' spirituality and dedication increase as a result of this puja. Kindness and blessings are given by Lord Vishnu and Devi Lakshmi. With Laxmi Narayan's blessings, the devotee never experienced a financial crisis, and barriers to success are erased.
An old tradition states that Maharshi Bhrigu once visited Vaikuntha and gave Narayana a kick in the chest while he was lying in Yoga Nidra on the other side of the bed. Bhrigus' feet were quickly grabbed by Narayana, who then began to inquire about any possible injuries to Rishivar's foot. 
But because of Bhrigu Rishi's actions, Goddess Lakshmi grew enraged with Vishnu. Why God did not punish Bhrigu Rishi was the source of the rage. Goddess Lakshmi fled Vaikuntha in resentment. When Lord Narayana began looking for Goddess Lakshmi, it was discovered that the latter had taken the form of a young woman named Padmavati. Lord Narayana arrived in Padmavati after taking the appearance of Venkatesh. God suggested Padmavati as Goddess accepted.
Lord Shiva and Brahma Ji served as witnesses while Vishnu Ji took a large sum of money from Lord Kubera to address the issue of funding the wedding. Due to this obligation, Padmavati as Goddess Lakshmi, and Narayanan Venkatesh, an avatar, were wed in an unusual union. 
After getting married, the Lord moved to the Tirumala hills and began residing there. He borrowed money from Kubera, but he also pledged to pay back all of his debt before the end of the Kali Yuga. He will keep paying back the loan till his obligation is satisfied. Due to this conviction that God is deeply in debt, followers donate enormous sums of money to relieve God of his burden.
Lakshmi Narayan Homam Vidhi
You'll need a picture, murti, or painting of Lakshmi Narayan in a precise pose before we begin the pooja. In the Ksheera Sagara, Lord Vishnu ought to be dozing off, with Goddess Lakshmi seated close by. Lord Brahma should be sitting on a lotus that should be growing from Vishnu's navel.
When performing this Pooja, be careful to face north. Using the pictures and Diya, arrange the aisle as needed. The individual doing this Pooja must be dressed in yellow and sit in a chair draped with the colour.
The Dhoop that is utilized should be a white or yellow flower. Ideally, Jasmin. In addition to igniting the Diya, camphor can also be burned by wrapping it with a yellow thread. Give Lakhsmi Narayan marigolds or any other yellow flowers.
Offer a yellow fruit that is in season, such as a banana or mango, next. Apply a discourse using Kesar now on the image or murti. Use the same Kesar again to apply a talk to your forehead after that. Give the gods a small amount of honey as well. Spread the honey on a flatbread or chapati and give it to a cow when the pooja is over.
Now give them some Haldi powder as well. Later, when the Pooja is finished, use the powder to create a "Shree" by mixing in some Gangajal or rose water. After the Pooja is over, create a "Shree" symbol on the front door, the locker, and the money by mixing a small amount of Gangajal or rose water with the powder. Prosperity and increased financial stability will result from this.
Offer the prasad to the gods after that. Besan should be used to make the prasad, which should also be yellow. Chant "Om Shreem Satyalokapalakaya Namah:" 108 times while holding the Chandan mala in your hands.
When you're finished, bow to the gods and beg for their pardon and fulfilment. As many individuals as you can get the prasad. Give the needy food and clothing while also feeding the cows. 
After the Pooja is over, create a "Shree" symbol on the front door, the locker, and the money by mixing a small amount of Gangajal or rose water with the powder. Prosperity and increased financial stability will result from this.
Pooja items required for Lakshmi Narayan Homam
Lakshmi and Narayana Idols 

Copper Pot

Copperplate

A pot of water Lamp with oil and wick

Camphor Incense sticks

Clothes to be offered to the idols

Ornaments of any kind to be offered to the idols

Milk

Vermillion

Rice

Ashwagandha

Flowers

Tulsi leaves

Sesame seeds

Janivara (sacred thread to be worn)

Sweets, dry fruits, milk, coconut, panchamrita
Benefits Of Lakshmi Narayan Homam
Relief from financial hardships, a windfall of wealth, protection against financial threats, and successful pursuit of material blessings in all endeavours.
The Lakshmi Narayana Homam improves the lives of those who are struggling financially, have interpersonal problems, and long for wealth and possessions. professionals who strive to be multitaskers. 
Those who desire to escape their financial difficulties. people who long for protection from future financial difficulties. One is given the ability and supremacy to fulfil and achieve financial success throughout one's life by doing this Homam once a year.
A person can be given the strength and capability to reach their potential and find financial success in life by calling upon the divine pair. 
The blessings listed below can be invoked by calling upon the celestial couple Narayana and Lakshmi, according to ancient Vedic texts:
Reduces financial hardships

Confer's wealth and releases you from financial pressure

Live in financial freedom

Deal with relationship problems

Develop your multitasking skills

Resolve your financial issues

Helps one succeed in all of their efforts, both now and in the future.

Assists in recovering bad debts
Final Thought
The Lakshmi Narayana homam is a wonderful ritual to enhance your happiness and the happiness of your family. You should do this homam if you are dealing with problems like recurring illnesses, loss of riches, or frequent conflicts. Your life will ultimately improve with Laxmi Narayan's blessings. If you're feeling overwhelmed, you can quickly reserve this homam with 99Pandit online.
You will receive everything you require from 99Pandit to do this Lakshmi Narayana homam effectively. We have skilled Pandits on staff who are experts in their field and are well-versed in all aspects of Vidhi Vidhan. Online Pooja booking would bring blessings to you and your family.
Frequently Asked Question
A.

Lakshmi Narayan homam is an homam and puja held in honour of Lord Narayan, also known as Vishnu, and the goddess Lakshmi. In the same way that Goddess Lakshami bestows wealth and beauty and Lord Narayan are the one who sustains this cosmos, Lakshami and Narayan are the celestial couple who bestow health, wealth, and prosperity upon their devotees.

A.

Lakshmi Narayan homam can be regularly performed at home for the benefit of the entire family, particularly on Thursdays. One must dress in yellow, sit with one's back to the North, offer yellow flowers, yellow fruits, etc., and chant the Lakshmi Narayan Mantra. Puja should be performed with a specific intention and goal and under the direction of a knowledgeable purohit. 99Pandit should be consulted before performing this pooja.

A.

This is a very helpful Homam that is carried out to amass legitimate wealth by making sincere efforts. Puja is performed to get financial abundance and stability as well as success in all efforts to earn money. It facilitates debt relief, having a positive relationship with one's coworkers, and achieving success in all spheres of one's life. 99Pandit does this puja, complete with all necessary rites, online.

A.

Lakshmi Narayan is best worshipped on Thursdays, but we can also offer everyday prayers to them for success and joy. It is thought to be particularly advantageous to worship Lakshmi Narayan on the day that the Hindu lunar month's Pushya Nakshatra occurs. If Pushya Nakshatra falls on a Thursday, the advantages are doubled.