North Indian Hindi Pandit In Hyderabad: What Are The Costs And Benefits?
Posted On:
March 15, 2023
Last Update On:
March 20, 2023
Book a pandit for North Indian Hindi Pandit In Hyderabad in a single click
100% FREE CONSULTATION WITH PANDIT JI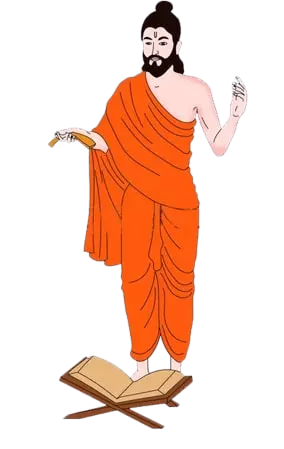 Are you searching for a North Indian Hindi Pandit In Hyderabad? Then, you are at the right place. We are the ones who can help you to find a North Indian hindi pandit in Hyderabad at your convenience. We have expert vedic pandits to perform any kind of Hindu rituals. Our pandits are qualified and skilled professionals who are well-versed in performing Hindu activities with the required puja items at an affordable price.
We "99Pandit" is one of the top leading portals to provide puja activities for those who want it. We have the astrologers, vedic pandits, gurus ji's and pujaris, etc on the website who are looking to have the religious service with an estimate. So, we 99Pandit helps users to provide religious pooja rituals in their native language. We find the pandits in your nearby location and also provide North Indian Hindi Pandit In Hyderabad.
Hindi Pandits in Hyderabad, English pandits, Marathi pandits, Tamil pandits, Bengali pandits, Kannada pandits, Gujarati pandits, north Indian pandits, etc are some of the variety of pandits we provide.
Are you looking for the North Indian hindi pandit in Hyderabad for the homam and puja? At 99Pandit, we offer North Indian hindi pandit in Hyderabad or near your location. You can avail of the various offers for the pujas in different languages from 99Pandit at an effective price. Our skilled pandits will come to your location to perform the pooja/homam with puja items based on your requirement. 
Need North Indian hindi pandit in Hyderabad?
Book for the North Indian Hindi Pandit In Hyderabad through 99Pandit. The required puja materials will be brought by the pandits. All the pandits are well-experienced and skilled and studied from vedic pathshala.blog/hindi-pandit-in-hyderabad/
North Indian Hindi Pandit In Hyderabad: 99Pandit
We provide skilled North Indian Hindi Pandit in Hyderabad and Purohit services for Puja and Homa in Hyderabad Metro and nearby locations. Our Hindi pandits have received extensive training in North Indian customs, Vedic texts, and the ways to conduct Pujas, Homas, Pariharas, Rites & Rituals, Shodasha Samskaras, Panchayat, and other religious ceremonies.
We provide a wide range of Hindi Pandit and Purohit services, such as astrology services such as locating the proper Shubh Mahurats (muhurat) to conduct ceremonies such as naamkaran, annaprashan, Bhoomi poojan, griha pravesh, sagai (engagement), janeau(upanayana), vivah (marriage ceremonies), performing kundali Milan ( Additionally, there are offerings at Godh Bharai (baby shower), Sashtiapthapoorthi pooja (60th Birthday), 70 Years Shanthi, and 80 Years Shanthi.
The top Pandits in Hyderabad are available through 99Pandit to perform Havan-Homas like Aghorastra Pasupat Havan, Chandi Havan, Chandi path, Durga homam, Purusha sukta homam, maha Rudra homam, Lalitha sahasranama pooja, maha Sudarshana homam, navagraha shanti puja and Jaap among many other pujas.
Along with the havan, we also provide puja services for corporate Pujas for Office openings or other events like Ayudh Puja, Deepavali Puja, Ground-Breaking Ceremonies (Bhumi-Pujan), or Havans for the Office/Business and other Festival Ceremonies.
Best North Indian Hindi Pandit in Hyderabad for Pujas
We have available the best North Indian Hindi Pandit in Hyderabad for Durga Paath, Kali puja, Ganapati Havan, Chandi Puja, Chandi Paath, Durga puja, and many more.
How To Book A North Indian Hindi Pandit In Hyderabad With 99Pandit
99Pandit has worked with a variety of Purohits/Pandits who have in-depth knowledge of diverse traditions and customs. Users can access the website and register their preferred Purohit following the requirements of the Pooja or ceremony. 
They can contact the support staff by phone at 8005663275, by WhatsApp at 8005663275, or by sending an email with their contact information. You could also profit from using this website to make reservations for the services.
Booking a pandit using 99Pandit is an easy process. You must select the puja you wish to do and enter your information with us to make an online pandit reservation.
Name in Full: 
Email Address:
Mobile Contact:
Date of puja:
Location Information:
You will receive an email and SMS with all the puja booking information and a link to make an advance payment of 30% of the total cost after submitting this form. We will confirm your online reservation as soon as we have the advance payment. We will also send you a list of household supplies, like plates, bowls, spoons, etc., that you should have on hand before the puja begins. 99Pandit will manage all arrangements moving forward. It's time for you now to feel the wonder of puja done in your region and take blessings.
After performing puja, you must pay the remaining 70% in cash or online. You can contact us by phone, email, or Whatsapp if you want to do a puja that isn't listed on the website, and we'll do it only for you.
North Indian Hindi Pandit In Hyderabad For Griha Pravesh Puja
Griha pravesh puja is an auspicious puja performed by the Hindus when they move into their newly constructed house. Griha pravesh puja also known as house warming ceremony. The purpose of this griha pravesh ceremony is to purify the house of evil and negative energies.
Regular North Indian Hindi Pandit In Hyderabad Package
Puja rituals include – Dwar Pravesh Puja, Matrika Puja, Navagraha Puja, Kul Devi-Devta Puja, Vastu Puja, Havan, Purnahuti, Mahamangal Aarti, Aashirvachan, Prasadvitran, Gau Puja, Kitchen Puja rituals, Ganapati Puja, Punyahavachan, Varun Puja, etc.

Duration: 3-6 hours.

Pandit Assign: 1 & 2

Price Range: 5000-10,000 INR
Simple North Indian Hindi Pandit In Hyderabad Package
North Indian Hindi Pandit In Hyderabad For Marriage 
Marriage ceremony is a very important ritual performed by the two people. Hindu marriage harmonizes two people for ultimate eternity. In this ceremony, two people get tied together with a relationship called spouse and balanced relationship. As per the Hindu marriage, the couple takes seven pheras. 
Pheras performed in marriage ceremonies are the sacred rounds taken by the groom and bride around the holy fire. Every step of the phera has a meaningful vow and the basic concept of pheras is the same for every marriage. The other rituals of marriage are different in every region. 
Regular North Indian Hindi Pandit In Hyderabad Package For Marriage
Morning Puja rituals include – the morning rituals include Mandap Puja, Havan, Purnahuti, Aashirvachan, Haldi Rituals with Ganapati Puja, Varun Puja, etc.

Duration: 2-3 Hours.

Pandits: 1

Evening Puja rituals include – evening marriage rituals including Ganapati Puja, Mandap Puja, Varun Puja, Var Puja, Marriage Puja rituals including Kanyadaan, Saat Phere, Sindoor Dharan, Aashirvachan,  Granth Bandhan, etc.

Duration: 2-5 Hours.

Pandits Assign: 2

Price Range: 15,000-20,000 INR
Best North Indian Hindi Pandit In Hyderabad For Marriage (Main Wedding)
Benefits You Will Get With 99Pandit For North Indian Hindi Pandit In Hyderabad
Finding Hindi pandits in Hyderabad makes you able to obtain the top pandits' services following your needs and convenience. These Purohits would be able to explain the mantras and hymns to you in Telugu while also reciting them in Sanskrit. It would be simpler for you to grasp the customs and ceremonies if they could speak with you in their native tongue.
Additionally, they would go above and beyond to thoroughly explain the process. Additionally, you can obtain answers to all of your questions on Dosha Parihara, Muhurta, Homas/Havanas, and Shodasa Shastra when you hire pandits through 99Pandit. The 99Pandit website provides hindi pandits at affordable rates or packages.
Get top-notch products from knowledgeable pandits and perform Hindu rituals.  Marriage puja, namkaran ceremony, Aksharabhyasam, and Annaprashaana with great devotion with the help of 99Pandit right away.    
Frequently Asked Question
A.
The time taken for puja and rituals depends on the package you selected. Most project take 5-7 hours to complete if all processes are followed properly.

A.
Yes, of course, you can pay the amount partially. Advance amount to confirm the booking and the balance payment you can pay directly to the pandit in cash or online mode such as NEFT, RTGS, and IMPS.

A. Yes, you will get the reliable North Indian hindi pandit in Hyderabad with proper details. Our pandit is well-experienced and skilled and our expertise is verified for satisfactory results of services you will be contracting with us.

A. It is necessary to register your details for the North Indian hindi pandit in Hyderabad. The advantage of registering the profile details would be easy for our team to contact you and provide you with the exact services.

A. Once you register your details on our website, our support team will contact you and will be in touch with you until the service is not fulfilled.

A. For whatever Pooja services you might want from us, our Pandit will make the necessary arrangements to obtain the necessary supplies. On the other hand, a Pooja Samagri List will be made available at the time the Puja service is booked if you do not want this assistance.