Vastu Shanti Pooja Invitation Card or Messages
Posted On:
March 22, 2023
Last Update On:
March 22, 2023
Book a pandit for Vastu Shanti Pooja in a single click
Verified Pandit For Puja At Your Doorstep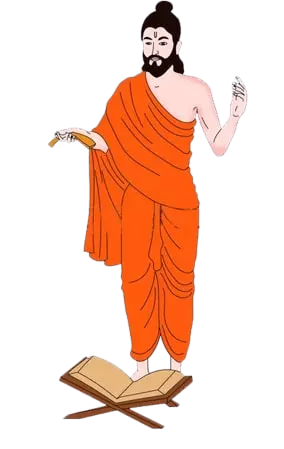 Vastu Shanti Pooja Invitation Card: It embraces your vastu shanti invitation to your guests using digital media to bring more peace and blessings to your house. 
Congrats on relocating to a lovely new house or office. Any significant event would feel incomplete without the support and presence of family and friends. Use the digital Vastu Shanti Pooja Invitation Card to invite your guests. The invitation can be used for a variety of events, including pujas and housewarming celebrations. At 99Pandit, we will guide you to have a large selection of artistic Vastu Shanti invitations.
Contemporary, creatively inclined homeowners can use digital invitation cards to invite their guests by sitting at home for the Vastu Shanti Pooja. The availability of invitation cards you can design in both Hindi and English is one of the best features. Hence, whether you want an Invitation card for Vastu Shanti Pooja for your house or place of business, you can design it online following your preferences. 
Hindus undertake the Vastu Shanti pooja to please Vastu Purush, the god of directions and the five basic components of nature. Recognized as the emblem of the land, plot, house, building, apartment, or even commercial and industrial, it is thought to safeguard these structures from both natural and man-made disasters.
Purpose Of Vastu Shanti Pooja
The significance of Vastu shanti pooja is to bring stability, peace, nature, wealth, pleasure, and prosperity to ensure harmony. The Vastu shanti pooja removes the negative effects and brings a positive vibe to the house. The purpose of Vastu shanti pooja also protects the house from evil effects.
The rituals involved in Vastu shanti pooja
The priest selects an auspicious day, shubh muhurat, and thithi for the Vastu Shanti pooja.

Add a Toran of Marigold flower tassel to the entrance door and plant an auspicious tree—preferably a Tulsi tree—or create a rangoli as decoration.

A symbolic home inspection, official fire lighting, and house purification. Veshthan Sutra (measurements)

Gruhapravesam or Housewarming Invitation.

Perform Sankalpa, Poonyahvachanam, Ganesh Pooja, Kalasha Sthapana, Nava Graha Pooja, Varun, and Vastu Purush Pooja, and Vastu Purush Yagnya, or Vastu Purush narrative and Vastu Mandal.

Vastu Purush prayers and resolutions

Prasad and Aarati

Interning the Vastu Purush at the home's northeast corner.
Essential Pointers
The principal priest conducts Havan and Puja, and it is crucial that the entire family, including the owner, participate.

The priest carries out many ceremonies, including mantra chanting, Havan, and finally dispensing the Prasad. Dinner or a feast is served to those who attended the ceremony and their loved ones after it.
What Is The Role Of Vastu Shanti Pooja Invitation Card
A message or Vastu Shanti Pooja Invitation Card is something you send to all the people closest to you, including your family, friends, neighbours, and other loved ones. You need the Vastu Shanti invitation card to participate in this blessed puja.
As you have opted to hold a puja in your home, apartment, workplace, business, etc. You may easily let your relatives and friends know about the pooja using a Vastu Shanti invitation card.
Which Type Of Vastu Shanti Pooja Invitation Card Can Be Designed
You may find different Vastu Shanti invitation cards online to send your guests. For your Vastu Shanti invitation card, you can also find a wide variety of styles and symbols. Traditional themes are also featured in the design.
The card appears more in keeping with Indian culture because of its traditional decorations.
You can employ a variety of motifs for this. such as Lord Vishnu, Lord Ganesh, the Kalash, Swastik, etc. The card seems traditional because of these symbols.
Examples of some designs of invitation cards for Vastu shanti pooja you can consider.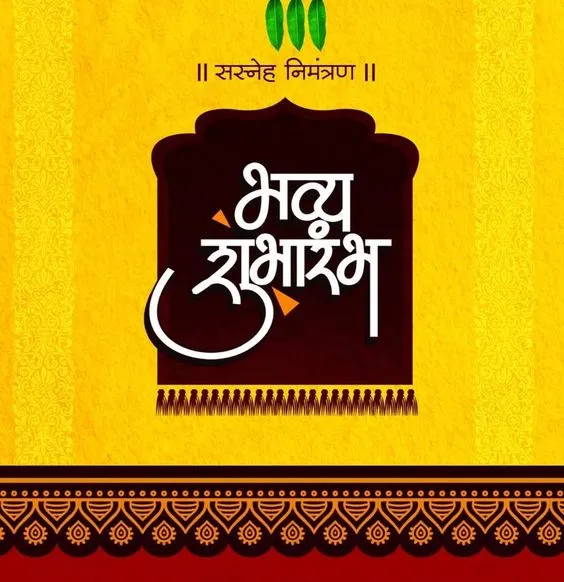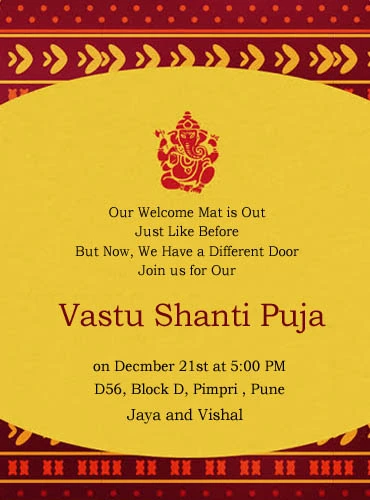 Background Of Vastu Shanti Pooja Template
The background of the Vastu Shanti Pooja Invitation Card should look more attractive to the readers and guests. Some of the ideas that can be used as a watermark for the invitation card template are
Symbols/Elements/Design for Watermark:
Flowers

Lord Vishnu

Lord Ganesh

Kalash

God's images

Swastik

Firepit

Marigold flower tassel

Hanging bells

Banana tree…etc to make the look more effective and enhance the invitation card design
What Does The Details Include In Invitation Card For Vastu Shanti Pooja
On the invitation card for Vastu shanti pooja, the details are included such as:
There are numerous colours available.

Background images include Swastik, Kalash, Lord Ganesh, Lord Vishnu, a fire pit, a priest, a banana tree, etc.

The image of God.

Hosting name

The year, day, and date.

Hawan and pooja time.

The time, location, and address of the banquet.

Wishes, sayings, and slogans.

RSVP, etc.
How Should We Write The Vastu Shanti Pooja Invitation Card
Send your family and friends a Vastu Shanti Pooja Invitation Card after you've created the invitation card, inviting them to attend at your home. Include the event, the address where you will be staying, the date, the time, and any other details you are required to include on the card. 
1. On a card, type the message in English.
We cordially ask for your presence on this auspicious occasion of Vastu shanti Pooja. We would be delighted if you came to our home to bring blessings and prosperity. On this day at noon, come and join us at the spot.
2. On the card, type the message in Hindi.
Also, you can include a note to your invitation card for Vastu shanti pooja in Hindi asking visitors to come to the puja on a specific day, time, and place.
3. Individual invitation wording
The effective Vastu shanti Pooja eliminates all obstacles from one's life or work and counteracts bad luck. We would also admire the chance to perform this auspicious pooja in front of our treasured family members and friends.
Hence, we kindly ask that you and your family arrive on the following date at the hour specified on the card and grant us the blessing of your presence. The location will be (*****), along with the invitee's name and any other relevant details.
Invitation Card For Vastu Shanti Pooja For WhatsApp
The message on the invitation card for Vastu shanti pooja should be pleasant and gracious to welcome the visitors to participate in the ceremony. For the Vastu shanti pooja, there should be two different sorts of WhatsApp invitation messages.
Long Message
The Vastu shanti pooja is performed by devotees to remove negative energies, overcome obstacles, and bring positivity to their own lives, and they prefer to enjoy this auspicious occasion with friends and family. Please come and join us at our home for the ceremony at the time and date indicated on the invitation card.
Brief Message
We kindly invite you to our home on (Date & Hour) for the auspicious Vastu shanti Pooja.
Message Ideas For Vastu Shanti Pooja Invitation Card
If you're seeking the best Vastu shanti invitation card design to invite your family, friends, and coworkers, we've got you covered.
There are numerous things for a new homeowner to think about, such as planning a vastu shanti pooja. The ideal Vastu shanti pooja invitation message may need to be written while asking your friends and family to the party.
A Vastu shanti invitation is a message you send to your friends and family on the occasion of Griha Pravesh Puja and another day, or the first entry, welcoming them to your house. Information about the Vastu shanti pooja, such as the date, time, and location, should be included in the message.
You can write warm messages on the invitation card for Vastu shanti pooja to invite the guests.
Benefits Of Invitation Card For Vastu Shanti Pooja
If you send the customized invitation card for Vastu shanti pooja to your friends and family, it brings blessings and prosperity to your house. The benefits of sending invitation cards for Vastu shanti pooja are described below:
Eco-friendly
By using digital Vastu Shanti invites, we may do a lot of good for the earth. Going paperless helps the environment and the trees. Emailing digital cards is a less expensive and more environmentally friendly option.
Money-saving
Digital cards are far less expensive than printed cards. With digital invitation cards for Vastu shanti pooja, printing costs are reduced and there is no room for error. Travelling won't be necessary for either getting the invites produced or getting the cards delivered.
Easy management of food and space
Digital invitation cards come with a lot of intriguing features. The host can feel more at ease at the event when they know how many people will be there. They can more effectively manage food and space as a result. 
Easier and Quicker
Digital cards are ready in just a few days, and you can send them right away by clicking on your smartphone. To obtain the cards and subsequently deliver the invitations, you do not need to travel. Even if you are running behind schedule with your invitation printing, a digital invitation card will still work to your advantage.
Wrapping It Up
Hence the invitation card for Vastu shanti pooja comes with very unique ideas to invite people to be a part of your journey. Except for the "Panjika"-dates, Vastu shanti Pooja can be conducted at any time of the year, although it is particularly auspicious before occasions like engagement, Marriage Puja, the start of a new project, or the launch of a business.
We are aware of the difficulties that may arise when performing a puja, especially if you are doing so for the first time or are unfamiliar with it.
To provide individuals with access to all puja services, including the gurus and purohits, and the supplies needed to carry out the puja, 99Pandit fills this gap. Thus, you can attend the entire puja and spend more time with your family and friends.
Use the details provided below to get in touch with 99Pandit.
Frequently Asked Question
A.
The term "Vastu" is made up of two Sanskrit terms, or Vastu Shastra, where "Shastra" denotes a "doctrine or instruction" and "Vastu" refers to a "dwelling" (home, habitation, structure on land or ground). This thins in modern parlance referred to as the science of architecture.
The five components, or "Pancha Bhootas," are combined (water, earth, air, fire, and sky). Vastu Shastra is the theory behind home design as a result.

A.
It is required to do Vastu Shanti puja now or on the following days:
Purchasing a new residence.
When a building is not done according to Vastu principles.
Following the conclusion of an old house's refurbishment.
Before settling into a rental house.
When you had a property that did not adhere to Vastu principles.
By doing Dwar puja, boiling milk, Gauri-Ganesh, Kalash, Navgraha, Vastu puja, and other Havana including Ganesh havan, Navagraha, Vastu, and Varun havan, Vastu Shanti Vidhi is carried out.

A.
Draw rangoli quickly, add toran to the front door, and sprinkle gangajal around the entire home. Keep everything tidy and avoid keeping any areas dusty or unclean. Avoid consuming alcohol and eating non-vegetarian before or after the pooja on that day while the puja ceremonies are in progress.

A.
The details mentioned on the Vastu shanti pooja card are a message, date, timings of the event, venue, and lastly, the invitee's name mentioned on the card.

A.
You can invite your friends and family to the Vastu shanti pooja by sending them an invitation card. This pooja is one where a larger attendance yields better results.