Pandit, Bhatji or Guruji For Puja In Mumbai
Posted On:
March 11, 2023
Last Update On:
March 25, 2023
Book a pandit for any Poojas in Mumbai in a single click
Verified Pandit For Puja At Your Doorstep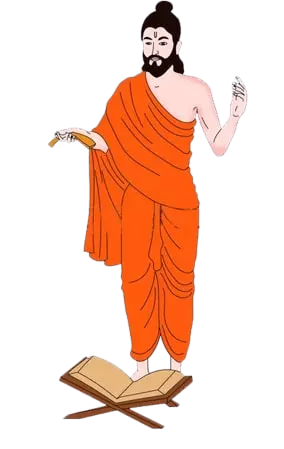 Are you finding the Pandit for puja in Mumbai? Are you living in Mumbai or not able to get the Vedic guruji for puja in Mumbai? The pandit word in Sanskrit refers to the one who has gained extra knowledge in Vedas and Hindu shastra. The pandit originated from the word "pand". 
This word is used in the Vedic and Post-Vedic books to represent the brahmins who is also famous as a pundit. Pandit for puja in Mumbai is the one who holds expertise in Veda. Generally, the term "pandit" describes the brahmin's capabilities and their knowledge to perform any Hindu ritual. 
Particularly during Pujas, Wedding ceremonies, Baptism rituals (Namakaran), or any other auspicious occasions, Purohits and Pandits are the most in-demand individuals. 
These people can assist in carrying out each ceremony following customs and culture because they are knowledgeable about hymns, the Vedas, and the Upanishads. We can help you to schedule a Hindi pandit for performing pujas and rituals if you're looking for an expert Hindi Pandit for puja in Mumbai / Guruji for puja in Mumbai / Bhatji in Mumbai.
Using 99Pandit's service has made it simpler to locate Purohits/Pandits in Mumbai. Individuals will be able to reserve the pandits of their choice and have their help executing various ceremonies smoothly.
Pandit For Puja In Mumbai | Guruji For Puja In Mumbai | Bhatji For Puja In Mumbai
It is crucial to realize that Purohits are required for many of the celebrations, festivals, and other events in Marathi culture. For all of your Pandit needs in Mumbai, 99Pandit is your one-stop shop.
Due to the increasing need for these knowledgeable Purohits, our 99Pandit has made it simple for people to discover the most suitable individual at their convenience. The Pandit for puja in Mumbai who has registered on our platform are skilled and have extensive expertise in executing elaborate weddings, Anna Prashanam, Aksharabhyasa, Gruhapravesham, Satyanarayana Pooja, and many more powerful rituals.
Nowadays, looking for pandit for puja in Mumbai & Bhatji for puja in Mumbai is not a big challenge. But having a knowledgeable and skilled pandit for puja in Mumbai might be challenging who perform the puja with dedication, devotion, and patience. 
Hence, arranging the Bhatji for puja in Mumbai and finishing it without any hurdles is not funny. Because every family wants a Bhatji for puja in Mumbai | Pandit for puja in Mumbai | Guruji for puja in Mumbai who can perform the puja in the native language and understand the rituals.
We constantly extend our hand to help if you're looking for an online Pandit for puja in Mumbai. Via our internet service, anyone can participate from anywhere. To do puja following the "Vidhi," we offer a Pandit online. 
Book Pandit for puja in Mumbai / Bhatji for puja in Mumbai / guruji for puja in Mumbai | Find a pandit near me.
Pandit adheres to the traditional Vedic laws. They know the Vedas and Shastra. Our online gurus are very patient and appropriately guide you to step-by-step video calls about the puja and the puja samagri via desktop/laptop or android smartphone so that you may perform a puja/Havan/wedding etc. at home without any issues.
How To Book A Pandit For Puja In Mumbai
To book a Pandit for puja in Mumbai, you have to choose the puja service and enter your details with us: Full Name, E-mail Address, Mobile Number, Date of Puja, Type of puja & Location Address.
We have made the booking process easier as compared to other online booking portals. The user just needs to come to the website and has to click on the "Book a pandit" button. 
Key Facts Of Booking the Pandit For Puja in Mumbai with 99Pandit:
Select the puja

Book A pandit

Get your puja confirmation

Get frequent updates for the pandit and puja
Once you submit the details for the service on the website, you will get notified of the pandit and puja through mail or SMS with the complete details of the pandit. 
Apart from these, we'll also provide you the list of materials required for the puja and utensils you need to arrange before starting the puja like a Kalash, spoon, bowls, and others. After the booking 99Pandit will take responsibility to handle all the procedures. Here you go!
Sit back and relax to experience the wonder of pujas and get the blessings of the Lord in a way done in your region and take god's blessings. When the puja and homam will be completed by the Pandit In Mumbai, you will have to pay the amount of the puja in cash or online. 
Online Pandit For Puja In Mumbai: 99Pandit
Ganapati Puja And Homam
Before starting any endeavor, Ganapati Puja and Homan are conducted to bring blessings, success, and good fortune. Moreover, this puja aids in removing impediments.
Griha Pravesh Puja
Housewarming celebrations are well known to take place at Griha Pravesh. A person or family moving into a new home may undertake Griha Pravesh. According to Hinduism and Vastu Shastra, moving into a new home following a housewarming is considered lucky. Subh Muhurat of Griha Pravesh ensures peace and harmony on the grounds of your home and provides good fortune.
Sunderkand Path
Lord Hanuman is primarily appeased during this puja. Hanuman's struggles and recovery are portrayed in this Path. This puja improves both your mental and emotional fortitude.
Satyanarayan Puja
After Griha Pravesh or marriage, one may perform the Satyanarayan puja. The purpose of the Satyanarayan puja is to express gratitude to the all-powerful God. This puja is thought to grant everyone's aspirations and desires.
Shraddha Shanti Vidhi 
This important Hindu ritual is known as Shraddha Shanti Vidhi. This Vidhi is carried out to save the soul of the deceased. It's a way to show them that you respect them.
Tarpan 
A ceremony in which water is offered to appease our deceased ancestors is known as tarpan.
Naming ceremony
A Naming ceremony is another name for a Namkaran ceremony. The official naming of a baby is an important ritual. In Hinduism, the newborn receives the blessing of the supreme Deity. That is seen as a fortunate event.
Pujas for different celebrations, such as birthdays, weddings, and anniversaries: Birthdays and anniversaries are no different from other occasions in that puja is also conducted. Puja can be performed during the wedding for the happiness of the soon-to-be wedded couple throughout their entire lives.
Graha Dasha Nivaran
Dasha Nivaran, Graha Dasha The negative energy of any planet can be diminished or removed, following Vedic Astrology, by doing this puja. Pandit Ji, who adheres to all Vedic ceremonies and directions, is offered here.
Pujas on special occasions, Havana, and homans can be arranged here for occasions like Shiva Ratri, Ganesh Chaturthi, Dussehra, Diwali, and Raksha Bandhan. However, during these festive days, anyone in Mumbai can reserve Pandit Ji online.
Advantages Of Pandit For Puja In Mumbai From 99Pandit
1. Information & Experience
To give you a fulfilling and divine Puja experience, we have partnered with Pandits who are well-qualified, knowledgeable, passionate, and experienced to perform Pujas.
2. Language, Rituals, and Customs
Following your consultation and following the customs of your community, language, and locale, our pandits perform Puja. We ensure that the Puja is carried out in accordance with the relevant rituals and practices, giving you the best experience possible.
3. Simple and satisfying
Similarly, From booking to assigning the appropriate Pandit Ji with the greatest Muhurat and Puja Samagri, we take care of the entire procedure. You can now take a seat, unwind, and enjoy the revered ceremony. We make an effort to make the Puja ritual a success in your eyes.
Frequently Asked Question
A.
Simple booking methods are provided by 99Pandit. The only information you need to submit is your Full Name, Email Address, Location, Puja Date, and Puja Type. Following your preferences, we will provide you with the Finest Hindi Speaking Pandit for puja in Mumbai.

A.
. For all of our Puja services in Hyderabad, Bangalore, Chennai, Ahmedabad, Pune, Kolkata, Mumbai, and Delhi, we provide affordable quotes. To know the charges in detail you can get in touch with us or visit the website.

A.
Yes the pandit of 99Pandit performs every hindu puja and ritual like Ganpati puja, Griha pravesh puja, Satyanarayan puja, Sunderkand path, Shradha puja and graha dasha nivaran puja etc.
A.
No, all charges incurred inside the city limits are included in the overall cost of our puja service and pandit in Mumbai. Other than that, there is no further cost.

A.
The puja generally may take 4-5 hours to complete with proper rituals and devotion. Sometimes if devotees perform the havan and jaaps it may take a long time.